Invoicing/Point of Sale

InvoicePlus is a simple invoicing program which speeds up the invoicing process so you can spend less time in the office and more time getting on with the job.
InvoicePlus allows you to raise invoices and easily track your debtor it also has a number of other clever features including:
Quoting
Multiple company setup
Customer Reporting
Email invoices and statements
Signup on BankLink Books accounting software by clicking here and receive InvoicePlus FREE
Or Email: sales@accountsonline.co.nz or call 0800 22 22 68 to discuss further.

If you're looking for an easy-to-use invoicing, quoting and stock control software,talk to us to see how easy this works in with our easy-to-use accounting package which links in with all major accounting offices software
Cashbook Complete Free Download:
www.cashbookcomplete.com/download.htm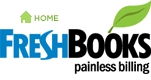 FreshBooks – Online Invoicing & Time Tracking Made Fun
Online invoicing, automates invoicing and collections, recurring invoices
Customize invoices and estimates.
Time tracking
Collect online payments
Generate invoices based on time, expenses and fixed cost services
Access your FreshBooks accounts from anywhere
Give your client access to their projects. This will help them see if they are staying on budget – they'll love you for it.
Estimates – convert estimates into invoices either on-time or recurring
Contractors – easily track contractor timesheets in one place. Contractors share your projects NOT your client information

WorkflowMax is an effective management tool enabling you to track time, manage projects, create quotes, purchase orders and invoices. This advanced reporting system, allows you to measure your teams productivity, monitor work in progress according to scheduled timelines, and quickly determine how much money you are making on each job. This system works nicely with BankLink and Xero Accounting Solutions.